Professional Home Siding Installation
Installing new siding is a great way to add color and fresh style to your home. The Badger Company is an authorized James Hardie home siding installer, so you can have peace of mind knowing your siding is being installed by experts.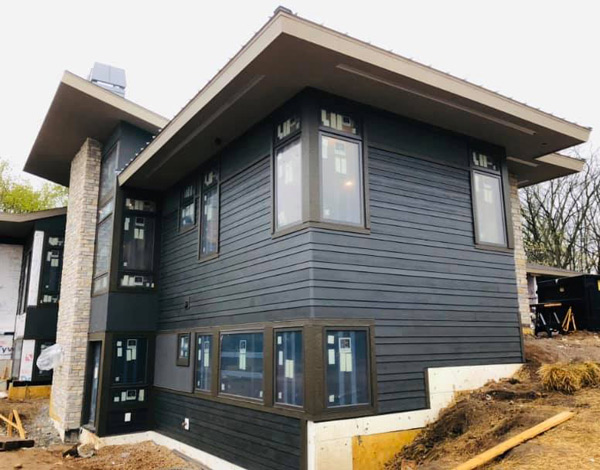 Not sure if you need new siding? Contact us to schedule a consultation or just to ask a few questions about our many siding options. Our team is dedicated to providing the best customer service. Give us a call about your siding today!
How to Choose New Siding
Allow our team to help you choose the best residential siding product for your home. There are three basic options:
Real wood siding. Real wood siding comes in a wide variety of styles, enough to fill the needs of virtually any homeowner. It has a timeless, classic look. It is almost as if the look, the feel, even the smell of real wood is somehow imprinted on human DNA.
Imitation wood. There are also alternatives that look like wood but are made of vinyl or cement. Almost every type of residential siding on the market tries to imitate the look of real wood.
Alternative styles. You can achieve a unique appearance for your home by choosing siding that doesn't necessarily appear as wood. Alternatives to the traditional wood look include various styles of colored vinyl, cement, brick and metal siding.
Types of Siding Materials
Fiber Cement Siding
Available in a variety of textures and colors, fiber cement is a popular alternative to wood for its durability and resistance to damage. It's generally more expensive than vinyl but comes with the benefits of being water-resistant, fire-resistant and bug-resistant, and some manufacturer's warranties go up to a whopping 50 years. You can paint it any color you'd like too.
Vinyl Siding
Since its introduction in the 1960s, vinyl has become the #1 home siding choice in the United States because of its cost, versatility and low maintenance. Hundreds of color choices are available in profiles that include horizontal and vertical panels, shakes, shingles, fish scales, lap and beaded designs.
When it comes to siding, vinyl is about as low-maintenance as it gets. Since it resists pests such as termites and blights such as rot, it will keep its original qualities for many years, giving you your money's worth. Also, you'll never need to paint your home — a simple cleaning once a year or so is more than adequate to maintain its original good looks. Once your vinyl siding is installed, you won't have to tax your budget with unexpected costs to keep it looking great!
Wood Shakes & Shingles
Real wood shingles or wood shakes (thicker than shingles) are a great choice for homeowners who want that beautiful, traditional wood appearance. Wood shingles offer a smooth and consistent look, and the wood can be cut into an array of shapes to create gorgeous aesthetics. Both shingles and shakes come from a variety of woods, but most common are Western red cedar and redwood.
Wood Clapboard or Lap Siding
Clapboard or lap siding is one of the oldest forms of exterior cladding used on homes. It can be made from many different species of wood. Lap wood siding is installed horizontally, with the upper piece overlapping the lower. All wood siding requires ongoing maintenance including painting and caulking to prevent weather damage.
Engineered Wood Siding
Engineered wood siding is made with wood castoffs, such as sawdust and bonding agents. It is a strong, lightweight product that is less expensive than real wood. Engineered wood comes in an array of typical wood siding styles. It does need to be painted for weatherproofing purposes, but factory-applied finishes are available. The standard life expectancy, if installed properly and maintained, is about 20 to 30 years.
Metal Siding
Whether the metal is aluminum or one of the various types of steel, the beauty of metals is that they can be formed to meet required shapes, curves and edges. The strength and the longevity of metals surpass most of the common home siding materials currently on the market.
Contact Us Today for a Free Consultation
The Badger Company is an authorized James Hardie Side Master, plus we handle all major brands and types of home siding. Get in touch with us today with any questions you may have about siding. We can offer you a free consultation as well as a free estimate for our professional installation services. Please give us a call at (608) 850-6282 or fill out the online form to send us a message. We'll be delighted to hear from you.