A Leading Commercial Roofing Contractor
The Badger Company is made up of commercial roofing professionals with years of experience, who are dedicated to making every job appear effortless. We have developed proven processes to ensure each roofing project has been planned and the materials have been ordered, received and staged for proper installation. Our team meets regularly to discuss the progress of a project and address any concerns brought forth by our customers. We are truly dedicated to customer satisfaction.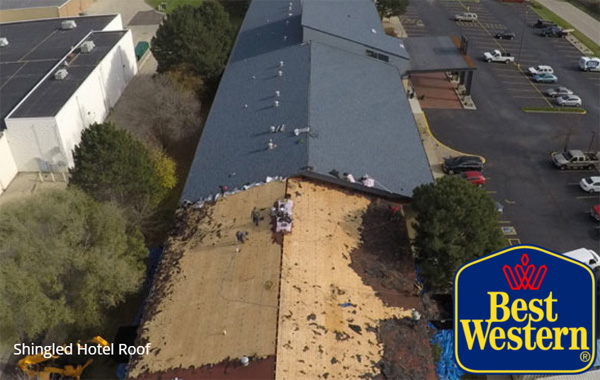 As a result, The Badger Company has successfully completed large commercial projects throughout south Wisconsin. Our professionals have extensive experience with managing large-scale projects from start to finish. Let us bring professionalism and quality to your business!
Why Choose The Badger Company?
We have a dedicated staff of project managers who monitor each job for quality control, proper installation techniques, cleanliness and utilization of safety practices. All of our workers are regularly trained to learn new techniques or improve existing ones.
We are committed to exceeding your expectations with the work we do, and it shows before, during and after a project is complete. We can also implement a maintenance program that adheres to your needs and budget, and will ensure your roof provides its full service lifetime.
Types of Commercial Roofing
Flat Commercial Roofing
When it comes to commercial and industrial, there are thousands of configurations to choose from. Low-slope roofing (also known as flat roofing) alone has thousands of possible configurations, depending on the roof deck type, insulation requirements, roof membrane requirements and other factors complicating the selection.
Our professionals have extensive experience installing high-quality roofing systems, which include but are not limited to:
Shingle Commercial Roofing
Due to the low cost and ease of application, asphalt shingles continue to be popular in commercial applications, such as apartment complexes, townhomes, condominiums and churches. Asphalt shingles offer numerous benefits for commercial properties:
Variety of styles (three-tab, architectural, laminated)
Available in dozens of colors
Granules resistant to fungus & algae
Durable & water-repellant
Contact Us Today for a Free Estimate
Let the professionals at The Badger Company help you make an informed decision on the best roofing system for your commercial property. Our commitment to quality service includes ensuring that our customers understand the roofing options available and are educated on how to maintain their commercial roofing investment. Call our team today at (608) 850-6282 to discuss your commercial roofing needs.