We're Your Local Residential Roofing Specialists
When you need a new roof for your home, count on The Badger Company. Our residential roofing team is committed to completing every home roofing project with excellence and integrity. We are also proud to say The Badger Company is a GAF Master Elite® Certified contractor. That places us among the top 3% of U.S. roofing contractors in the industry!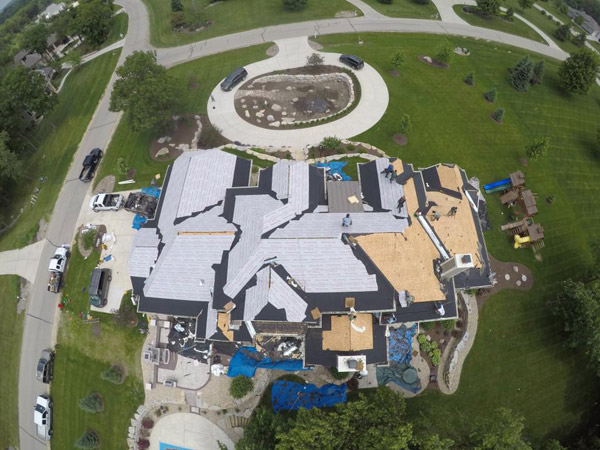 What Is Composite Shingle Roofing?
Composite shingle roofs are a durable and affordable residential roofing solution. They are the most popular and most highly recommended type of roofing for residential properties. This is because they look great, keep costs low and come in many different styles and colors.
These shingles are formed out of various materials glued together in layers. Shingles can be made of asphalt, slate, ceramic, fiberglass or laminate, and additives are included to weatherproof the composite materials.
Highly durable & affordable
Many color choices
Excellent UV protection
Up to a 50-year manufacturer warranty
Types of Composite Shingles
There are various composite shingle roofing options. Some of our most popular choices include:
Decorative Shingles: GAF Ultra Premium Designer Shingles can transform your roofing system into the final accent that turns a house into your home. The innovative designs and technology coupled with a sophisticated beauty create a roof of the finest caliber.
High-Impact Shingles: GAF offers multiple shingles with enhanced impact resistance, including Timberline® ArmorShield™ II SBS Modified IR Shingles and Grand Sequoia® ArmorShield™ SBS Modified IR Shingles. They provide an excellent combination of protection and beauty for your home. Made with GAF proprietary SBS modified asphalt formulation, GAF ArmorShield™ Series Shingles pass the industry's toughest impact-resistance test: UL 2218 Class 4.
Laminate Shingles: Designed to resemble real wood shingles, laminate is available in several colors. It offers advantages over real wood, including improved weather resistance. Laminate often comes with a manufacturer's warranty of 30 to 50 years.
Architectural Shingles: Made with ceramic granules and fiberglass reinforcement, architectural shingles are one of the most modern composite roofing options. This residential roofing type is often chosen for its strength and beautiful, textured appearance, as well as the excellent warranty typically included with these shingles.
Three-Tab Shingles: As one of the most affordable roofing options, three-tab shingles are perfect for homeowners who need a quick and easy replacement. They are also easy to maintain.
Contact Us Today to Request a Consultation
The Badger Company has installed new roofs for hundreds of customers throughout south Wisconsin. You can trust our GAF Master Elite certified team to install a new roof that impresses and keeps your family safe. Contact us to today for a free consultation. Call (608) 850-6282 or fill out the online form to begin!