Meet the Team
The Badger Company is committed to informing property owners on the best products that the industry has to offer. We ensure excellence through high caliber workmanship and honest communication. This is the foundation on which we build our relationships.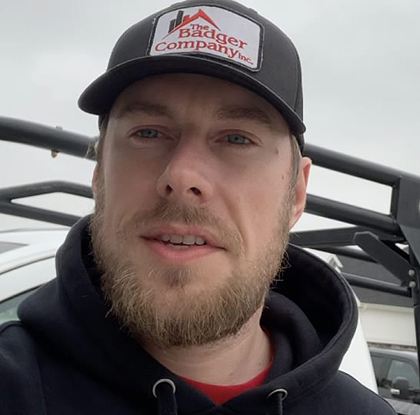 KRIS LAUFENBERG
Kris Laufenberg is the Owner of The Badger Company. He grew up in Waunakee area and graduated from the high school there in 2010. He worked his way through high school on a local dairy farm, and started his first roofing career as a laborer his senior year of high school. Kris worked his way up to crew foreman by the time he graduated from MATC in Business Management in 2013. Kris joined The Badger Company team in 2018 and successfully managed production, sales, and operations before becoming owner of the company in 2020.
He is certified and trained in a variety of products and installations including: Shingle Roofing, Metal Roofing, TPO and Rubber Roofing application, Attic Air Vent Ventilation, vinyl siding, James Hardie Fiber Cement, LP Smartside siding.
In his free time he enjoys traveling to new places and spending time outdoors with his Girlfriend and their dogs. He enjoys sports, hiking, hunting and fishing.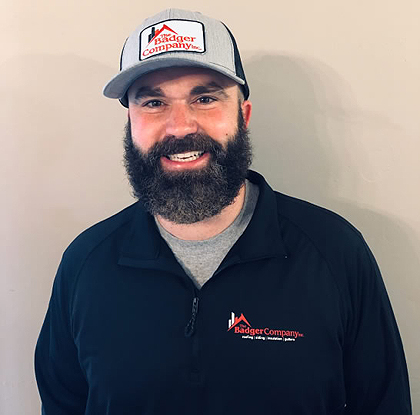 JEREMIAH MILLER
Born and raised in Wisconsin, Jeremiah spent 9 years in Colorado before returning with his wife to raise their kids back in his hometown of Sauk Prairie. As Production Manager for the Badger Company, you will see him on jobsites communicating with crews and clients on a daily basis. He is in charge of managing the production process from start to finish and is in constant contact with crews, suppliers, and customers to ensure your project runs smoothly and that you are 100% satisfied with the end result.
Jeremiah has been in the contracting business for over 20 years and enjoys all aspects of the sometimes challenging, but extremely rewarding career. His background in management, customer service, small business operations, and construction trades has been a welcome addition to the Badger Company team. Jeremiah loves learning and currently holds multiple Wisconsin licenses such as: dwelling contractor, real estate, and lead renovator.
When he's not running our production team, Jeremiah spends time with his wife, 2 kids, and their puppy enjoying the great Wisconsin outdoors. You can find them playing soccer, hiking, camping, mountain biking, and relaxing in the backyard around the firepit.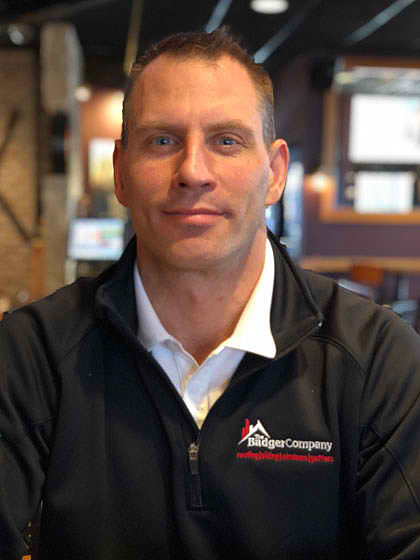 MIKE NOLDEN
Mike is the original founder of The Badger Company. Born in Sauk City Wisconsin, Mike Nolden grew up loving the outdoors. Hunting and playing hockey were the things that he enjoyed most. After graduating in 1997, Mike worked for a local roofing contractor and he was immediately drawn to the freedom of being outside. In 1998 he started his own business and moved to Waunakee where he set the foundation of his life and company. The Badger Company carries on his initial vision of a company that is focused on what matters most, honest communication.
Mike enjoys spending quality time with his wife Amy, and their four children, Tyler, Dylan, Michaela and Jacob. He loves the outdoors and traveling with them.