Professional Blown-In Insulation Services
Insulation is crucial to maintain an energy-efficient home. If your home is leaking significant energy, you may be due for new blown-in insulation. At The Badger Company, our process includes a detailed cleaning of the area around the attic hatch to ensure no debris left behind. Most attics can be insulated in one day or less. We do blown-in insulation right the first time!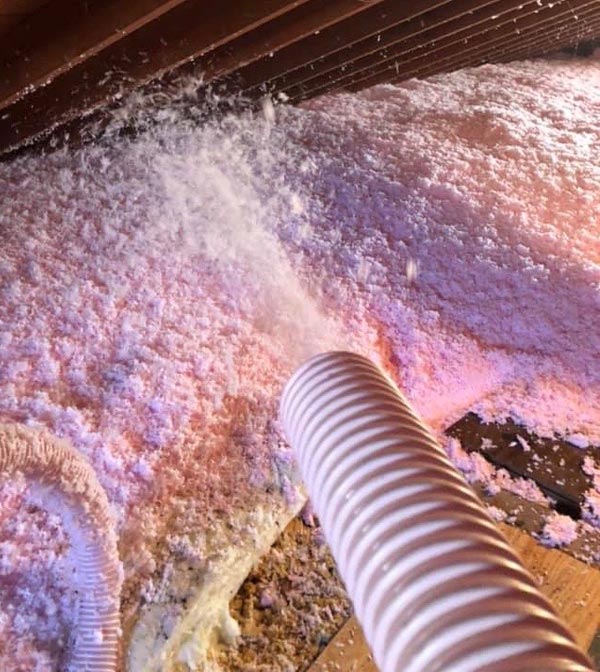 You can rely on our expertise in attic ventilation and blown-in insulation. We offer the following benefits:
Loose-fill blown-in insulation applied over existing insulation.
Full inspection of the attic, air intake and roof exhaust vents.
Inspection for pests, roof leaks and any structural issues.
Removal of old insulation as needed.
Air sealing of penetrations in the attic.
Ensure all bathroom fans are hooked up and vented in insulated flex hose.
Contact The Badger Company today for your free attic inspection!
Why Add More Insulation to Your Attic?
Attic insulation can settle over time. In fact, cellulose insulation can settle as much as 20% after installation. Once the insulation settles, you lose R-Value and efficiency of the insulation. Foot traffic from past contractors or homeowners can also cause insulation to compact and lose its R-Value. Additionally, heat loss from compacted insulation can greatly increase your energy loss. This can cause ice damming in the winter, increased heating and cooling costs, and possible shingle failure on your roof.
Contact Us Today to Schedule a Free Inspection
The Badger Company is available to assess the existing insulation in your home or office and offer you an update with new blown-in insulation. Have questions? Please don't hesitate to contact us. Our team can answer any inquiries about our insulation process and offer a free estimate for our services. Call us today at (608) 850-6282 or fill out the online form to get started.